Download or upgrade to WorkDo 2.8 today!
New features and tool available!
WorkDo 2.8 is available for download and upgrade now! The new version includes new user-interface design and new tools to enhance teamwork.
1. New tool: Approvals
WorkDo introduces a brand new tool, Approvals. This new tool can be immediately activated from your workplace tool box. The tool contains a general form in which members can fill in the information, attach images or files and apply anything that requires others' approvals. This can be used for new project proposals that require other departments for review. It also includes a function in which you can submit the form to a specific member for approval. This is useful for cross-department projects.
Note: Remember to add members to the designated approver list in HR tool first.

2. Flexible work hours
You can now adjust the work hours of your workplace to be less or greater than eight hours and morning and afternoon hours don't have to be four and four (for example, it can be three hours in the morning and five hours in the afternoon). This change will be applied to HR-related tools such as Leave Pro and Attendance.

3. Notifications separated into categories
We separated the notifications into three tabs: All, Mention and Attention.
All: All the notifications including who liked your note, who commented on your task, who assigned you a task, who mentioned you and who applied a leave request waiting for your approval.
Mention: Who mentioned you whether in a note, remark and comment.
Attention: Who assigned a task to you or invited you to attend an event and who applied for leave, appeal or expense.
4. Events now have calendar view
All events now have calendar view in addition to the list view.
5. Forward messages from and to chatrooms
In addition to turning a chat message into a note or task, you can now forward the message to another chatroom. Right click on the message, click Forward, choose where you want to forward to and done.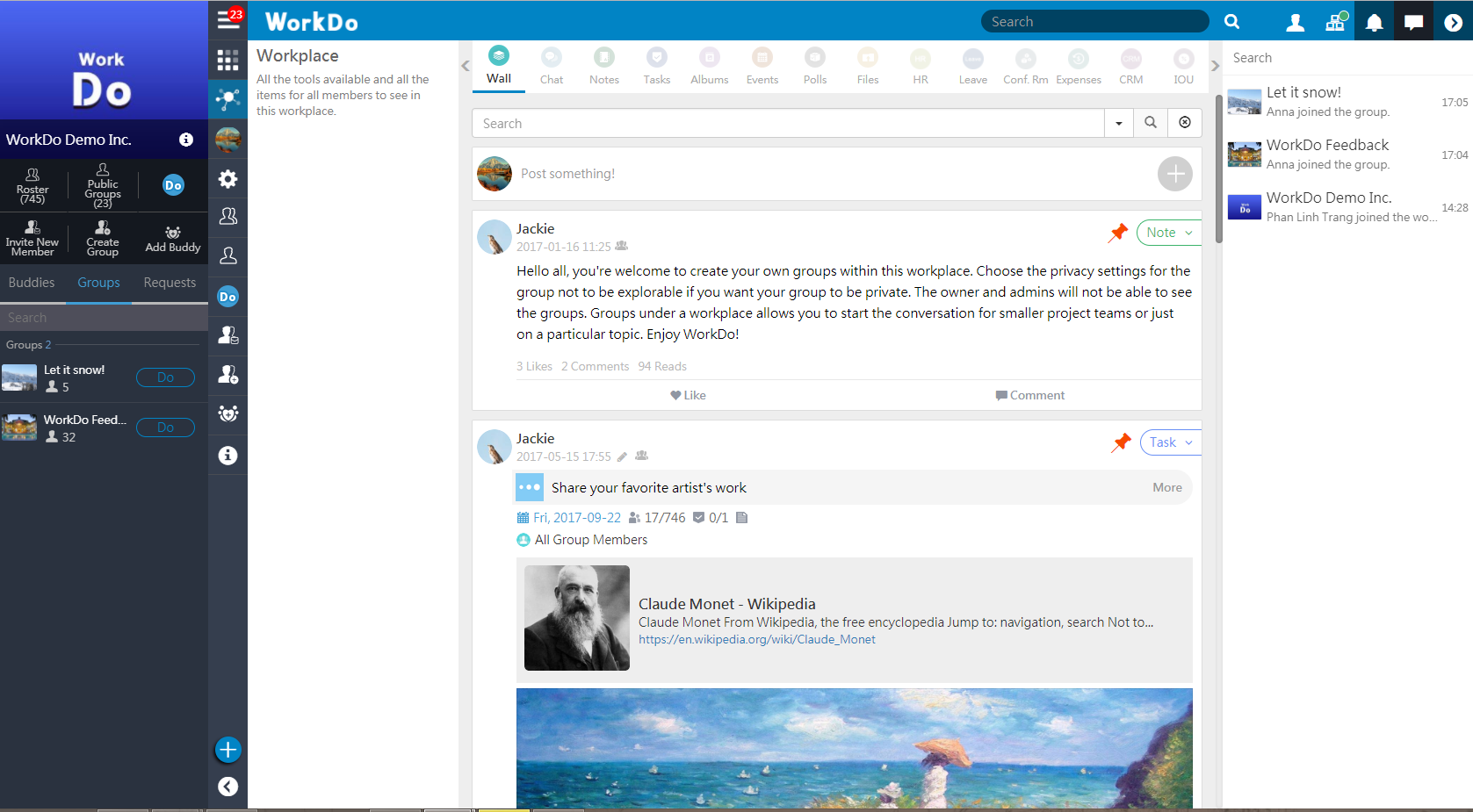 ▲ Web-interface also has new design, check it out!
Click here to download or upgrade
Google Play (Android): WorkDo 2.8.13 and above
App Store (iOS): WorkDo 2.8.16 and above